RED-V RXV A1000 T
RXV A1000 T is the new digital signage media player from RED-V, designed to bring a world of online contents to your screens, such as Ultra High-Definition video playback and real-time streaming, remote management, local media playback capability via USB port and SD Cards, and audio streaming services. Designed to be easy-to-use, RXV A1000T transforms your displays in fully interactive marketing tools, without any technical skills. You just log in your RED-V dashboard by computer, smartphone or tablet to create your layout experience quick and easy, importing dynamic contents like social media, pictures, video, feed RSS, Tweets, playlist and so on in just a few click. Thanks to its RS-232 port the A1000T can send serial commands to external devices as displays or projectors to control and manage from the Internet.
Processor
RK3288 Quad Core A17 CPU up to 1.8GHz
Memory
DDR3L-1333MHz 2GB, onboard socket
Graphics
ARM Mali-T764 GPU
4K H.264/H.265 video decoder, 1080P video encoder/1080P 60fps video decoders
Network
Realtek RTL8211E Gigabit Ethernet controller
I/O
3 x USB 2.0, 1 x USB2.0 OTG
1 x HDMI
1 x RJ45 LAN
1 x RS232 serial port
1 x MIC-IN, 1 x AUDIO-OUT
1 x Full-size Mini-PCIe for 3G
1 x SIM Slot
1 x HDD LED, 1 x Power LED
1 x WiFi + BT Module Onboard
Storage
16GB eMMC, TF Card reader
JAHC Tech
0~255 Second Time out support, auto power on
Set up independently every day, a week as a cycle
IR Remote controller for power on
Operation System
Android 5.1
Power
DC-IN 12V
Dimensions
116.6mm x 107.2mm x 30mm
Environment
0℃ ~ 40℃ (32 ℉ ~ 104 ℉) at 0.7m/s Air Flow, humidity 95%@40℃ (non-condensing)
Certification
CE, FCC Class B, CCC
RXV A1000 T
MEDIA PLAYER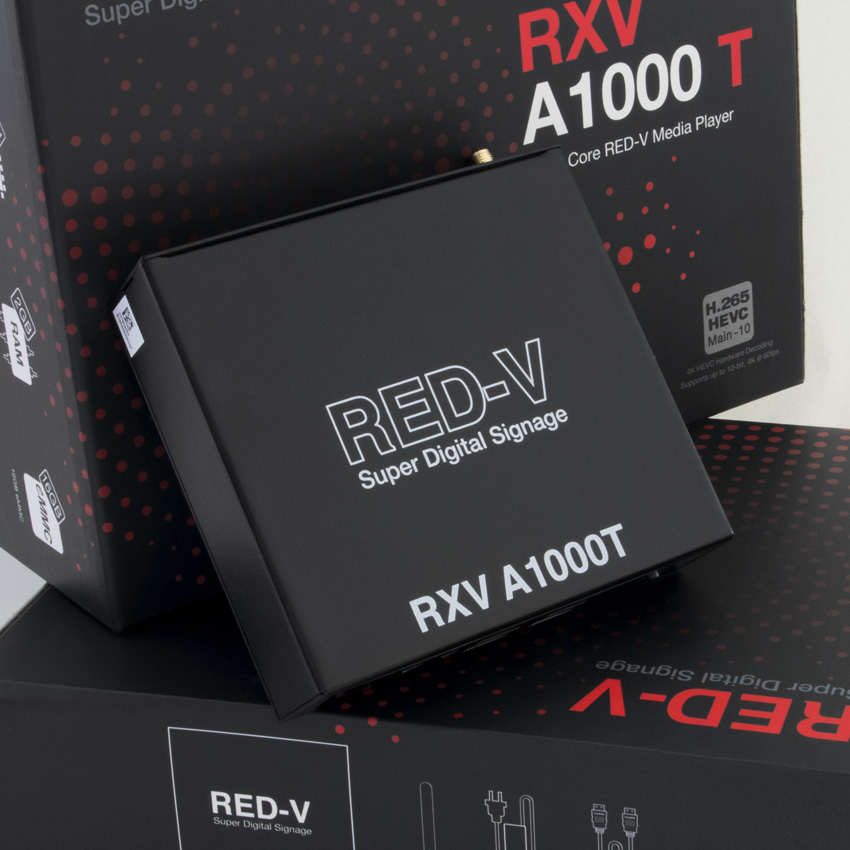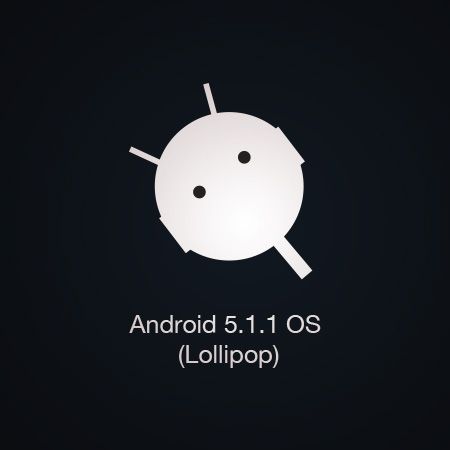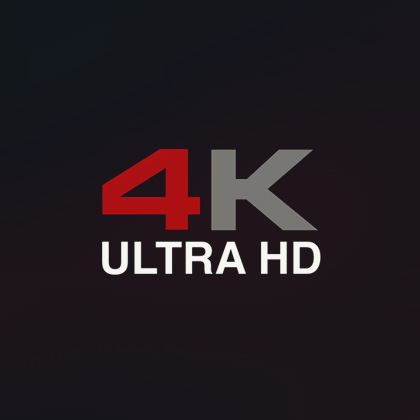 RED-V SOFTWARE
RED-V is a complete Digital Signage solution, from media player up to the CMS server, that is made possible by a tightly integrated suite of applications. On the media player side RED-V consists of a set of native Android apps, specifically designed and optimized for our media player hardware:
RED-V Launcher
It is the first apps loaded when the media player starts, and enables the user to configure and manage all RED-V and system configurations (CMS server connection, Wi-Fi or ethernet network, date and time, etc.)
RED-V Downloader
It's a service that keeps the player always synchronized with the CMS server, sends reports, alarms and playout statistics. It also implement the embedded CMS Web Server used especially in RED-V ONE mode of operation (no external CMS server is needed in this case)
RED-V Player
It's the main and most important app running on the media player, which renders and plays all the audiovisual contents on the screen as designed by the user. It takes advantage of all the hardware accelerated capabilities to provide an immersive experience to the intended audience. Besides videos and image playlists with animations, it supports: YouTube (videos, playlists and channels), Twitter, RSS news feeds, Web view with Javascript support, etc
RED-V SERVER
It's a powerful CMS and Digital Signage server, designed with ease-of-use in mind, that let's you manage from a few media players from a single installation, to big installations with thousands of players around the world, possibly independently managed by different accounts with different users and contents.
As an alternative to RED-V ONE
RED-V PROXY
For large and geographically sparse installations RED-V Proxy can help you reduce network traffic costs and speed up media player synchronization, by hosting and serving media contents in a distributed way, instead of using a single central server.
RED-V ONE
It's a small yet complete, CMS server pre-installed in the media player, just working out of the box. With it you have everything needed to manage a single RED-V player.
As an alternative to RED-V SERVER






The RED-V Central Server features mainly relates to contents, distribution architecture, channels and devices. As such, it can be referred to as a contents and Digital Signage management tool, designed as SaaS (Software as a Service). RED-V Central Server UI is an HTML5 Web App and works as fine on a desktop browser and on smartphone and tablet devices (this very much concern the "responsive" design of its UI). This stylish UI, designed with easy of use and simplicity in mind, helps you managing your RED-V Network of media players from your RED-V Central Server even from an iOS or Android smartphone while your RED-V Central Server runs on your premises.
FOCUSED SOLELY ON DELIVERING
AMAZING PLAYOUT QUALITY
RXV A740 R is an amazing media player with stunning Ultra High-Definition video playout, engineered to be durable and extremely power efficient. The pre-installed RED-V suite of apps make this media player a perfect solution for Digital Signage installations, from the smallest one with a single screen, up to the biggest with thousands of screens.


Easy-to-Use
RED-V is a smart Digital Signage solution that allows you to manage both small and large installations thanks to its intuitive set of apps and the CMS server. This solution is suitable for creating the most effective content for different situations, without specific technical skills. Easy steps to upload your files and create or change your screen layout and program as well as scheduling it, to provide your audiovisual message to the right audiences.
Enjoy full and easy control of your screens with RED-V Super Digital Signage.

Ultra High-Definition video
RXV A740 R can play 4K videos with an exceptional 60 fps and 10-bit colour, delivering ultra sharp and smooth imagery for a unique video experience. Thanks to HEVC / H.265 codec support, 4K video files can be highly compressed and reduced in size without sacrificing video quality. Reduced file size can help lowering the costs for your network traffic infrastructure, especially for big projects with many Internet connected players / screens.

Energy Efficient
RXV A740 R, despite being so powerful, offers an exceptional energy efficiency, making it a perfect solution as a Digital Signage media player, that can be powered-on 24h a day, without any worries.